Your Real Estate Agent in Spain
Specializing in assisting Americans, we simplify your journey to owning a dream property in Spain. Our expert, multilingual team ensures a seamless, stress-free experience, from city buzz to coastal tranquility.
Tailored services for U.S. citizens looking for Spanish real estate.
From property search to paperwork (NIE, visa, bank accounts), we've got you covered.
Whether it's city life or coastal living, we find properties that match your dream.
Skilled, responsive team fluent in English and Spanish for smooth communication.
Let's turn your Spanish aspirations into reality!
Share your criteria, schedule a meeting and receive 3 matching properties
Unfamiliar with the procedures for buying real estate in Spain?
Don't have the time for back-and-forth trips and on-site visits?
Don't know the real estate market and the prices in Spain?
Complete assistance for buying real estate in Spain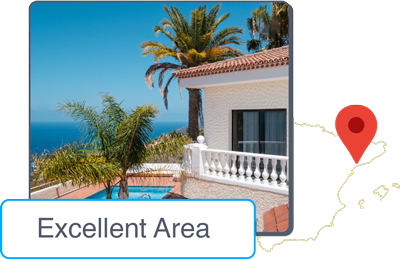 Advice on Buying Zones in Spain
Take advantage of our expert advice to discover unique buying opportunities on-site.
Property Selection
Our team meticulously selects real estate properties that perfectly match your criteria.
Virtual Tours in Spain
Explore your future properties through captivating virtual tours! Save time and unnecessary travel between your location and Spain.
NIE Acquisition
We handle the process of obtaining the Foreigner Identification Number (NIE) in Spain, which is mandatory for property purchase, ensuring a simplified and hassle-free procedure.
Visit Scheduling
Let us organize your visit itinerary and accompany you during your on-site visits. We optimize your time by carefully planning the visits.
Legal Property Verifications
Our legal service provides you with comprehensive property verifications, ensuring peace of mind during the property acquisition.
Complete Translation
Translation of documents into english to ensure your understanding of our services and procedures in Spain.
With You at the Notary
Accompaniment and complete translation during the notary signing, explaining each step of the process in detail.
Price Negotiation in Your Interest
We commit to negotiating the sale price in your favor, guaranteeing you the best conditions for your property acquisition.
Bank Accompaniment
We assist you in opening your bank account in Spain and in changing the account holders of energy contracts (electricity, water, internet, etc.).
Assistance in Obtaining the Tourist License
We offer our assistance in obtaining the tourist license, allowing you to fully enjoy rental opportunities in full compliance.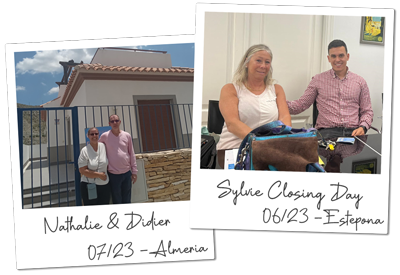 We work exclusively
for buyers.
House in Turis
Listed Sale Price
208 000€
Negotiated Sale Price
187 000€
Savings Achieved
21 000€ – 10,09%
House in Turis
Vente à Turis
Negotiation carried out by our property hunter Maxime Boreux for our client Pascal R.
Listed Sale Price
85 000€
Negotiated Sale Price
80 000€
Savings Achieved
5 000€ – 5,88%
House in Rosas
Vente à Rosas
Negotiation carried out by our property hunter Romain Bonhomme for our client Aurélie D.
Negotiation in Your Interest
We act as your dedicated partner, negotiating firmly to ensure you the best price.
Advantageous Rates
We minimize costs through internal optimization and partnerships with Spanish real estate players.
Only in Your Interest
Unlike a traditional agency, we have no properties to offload; we don't work for sellers. Our sole goal is to find the ideal property for you. You can even suggest properties to us.
Long-Term Search Mandate
We accompany you at your own pace, aware that buying property in Spain requires time and careful consideration.
Finally, true real estate professionals!
The team at Olé Immobilier is fast, efficient, approachable, and also friendly. Thanks to them, we found and bought our house in Spain (Javea). They guided us from the search to the purchase and introduced us to their network, their knowledge, and the law firm Delaguia & Luzon, who speak French perfectly. We can only recommend to any French-speaking person wanting to buy property in Spain to go through them. A special thanks to Benjamin, the agency director, for his great availability (even after the purchase) and for his professionalism.
Steve Groux
Excellent support for our purchase in Girona.
Romain, our 'property hunter,' was perfect from start to finish (apartment search, visits, notary, various procedures: water, gas, bank account, telephone…). We are delighted to have used this young company, without which we would not yet have our apartment. A big thank you, we recommend 100%.
Virginie Vidal
We were assisted by true professionals.
Maxime, our contact, was incredible. Efficient, friendly, facilitating, and offering good advice, Maxime quickly understood what we were looking for. After organizing a marathon day of 9 visits plus a meeting with the notary to draft a power of attorney, we found our foothold in Barcelona. Moreover, Maxime took care of everything, absolutely everything, and always with a smile. It's very secure and reassuring. I don't regret this partnership for a second.
Sylvie Treffel
Frequently Asked
Questions
Everything you need to know for your purchase in Spain.
What do I need to know during the process of buying property in Spain?
patrigeon.randy@gmail.com
2023-10-19T12:53:44+00:00
We take care of everything for you, and our service is tailored to english-speaking property buyers in Spain.
Your involvement will primarily consist of visiting the consulate/embassy of your country (France, Belgium, Switzerland, Canada, or another) to apply for your NIE (Foreigner Identification Number in Spain). It's important to note that we pre-fill all administrative documents for you in advance, and this NIE is essential for any local procedures.
Next, we'll ask you to select properties that interest you for physical visits on-site. This will be followed by the legal assessment of the property by our French-speaking lawyer (critical to avoid hidden defects). We'll draft all the necessary legal documents for your purchase (Purchase Agreement and Deed of Sale), ensuring safety and always in your best interest.
Your final step is to travel to Spain to sign with the notary (we'll pre-arrange the appointment for you and accompany you to the notary for signing and translation) and receive your keys.
Lastly, we'll also guide you in opening a local bank account, which is mandatory for paying your utility bills (a quick process). We'll also handle the change of account holders for water, electricity, internet, and gas on your behalf.